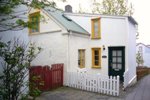 The Icelandic government is looking to ensure that its housing market does not become the country's next financial liability after the 2008 banking collapse.
The latest figures from Statistics Iceland have revealed that prices for apartments in the North Atlantic nation shot up 17 percent over the last two-and-a-half years. The average is now only 1.7 percent lower than the 2008 peak measured just before the crash.
Experts say the inflation comes as a result of the capital controls enacted following the crisis. The controls meant real estate was one of the only options for overseas investors, helping to drive prices up.
The government is now contemplating how to counteract the phenomenon ahead of the removal of currency restrictions, according to the chairman of the Icelandic Parliamentary welfare committee, Sigridur Ingibjorg Ingadottir.
She told Bloomberg this week, "There's every reason to look into whether parliament should pass legislation to limit the investment options for offshore króna holders." She added that such limitations should work toward, "preventing investors from using offshore funds to invest in the real estate market".
Analysts say that Reykjavik's imminent removal of capital controls continues to pose the biggest threat to the country's ongoing recovery, which has been referred to as "impressive" by International Monetary Fund chief Christine Lagarde.