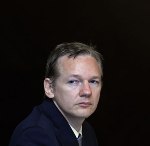 British authorities are no longer threatening to enter the Ecuadorian embassy in London to arrest Julian Assange, Ecuadorian officials say.
Ecuador had claimed that UK officials had originally insinuated that they would invade the diplomatic facility to apprehend the Wikileaks founder in order to extradite him to Sweden for questioning in an alleged sexual assault case. However, London says it never made such threats.
Assange took refuge at the embassy earlier this summer. The 41-year-old denies any wrongdoing in the sexual assault cases and fears that if he is sent to Stockholm he will be extradited to Washington to face charges relating to the release of thousands of diplomatic cables via his Wikileaks website.
Rafael Correa said on behalf of the Ecuadorian embassy, "We consider this unfortunate incident over, after a grave diplomatic error by the British in which they said they would enter our embassy," the BBC reports.
According to the UK's Foreign Office (FCO), the move by Ecuador comes after it sent a letter to the embassy assuring them that no action would be taken. Officials said that the FCO was committed to having dialogue with Ecuador and reiterated that it had never threatened the diplomatic envoy out of respect for international law. The FCO statement said, "We invite the government of Ecuador to resume, as early as possible, the constructive discussions we have held on this matter to date."