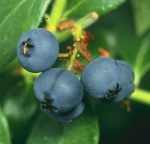 Blueberries from Finland are seeing growing popularity in the Far East. According to a report by YLE this week, the popularity of the small fruit is on the rise, although a shortage of labourers to pick berries has left Finnish berry farmers unable to meet the demands of consumers abroad.
Tommi Anttila, a member of the Finnish association berry farmers' Satakunta chapter, said, "I got an email from China a while back. They would have wanted five million kilos of blueberries," the YLE news agency reports. Antitila went on to say, "We could sell all the berries we could pick, but there aren't enough pickers."
Recent figures show that around 3,000 foreign workers, the majority of which are from Thailand, will travel to Finland to pick berries this season.
Meanwhile, several European nations have recently shown interest in buying large quantities of Finnish lingonberries, which have also seen a recent spike in demand.
Farmers say a bumper crop has followed a sudden rise in temperatures after weeks of cooler weather. Record-breaking figures were recorded across Scandinavia at the beginning of the week.