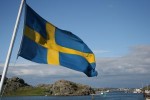 The Swedish premier officially lodged a divorce application on 11th July, according to reports.
Press secretary Roberta Alenius announced on behalf of Prime Minister Fredrik Reinfeldt in March that he would be splitting from his wife. Last week the pair reportedly made the breakup official, although they have since remained silent on the issue.
Mrs Reinfeldt's press secretary told reporters from the Expression newspaper, "I will not comment on Filippa Reinfeldt's private life." Similarly, spokesman Markus Friberg said on behalf of the Prime Minister, "I have no other comments than those in the press statement."
Details about the divorce proceedings have also been kept fairly quiet, despite the couple having been separated for nearly six months. However, the PM and Filipa were both seen at Almedalen on Gotland earlier in the month, where the soon-to-be ex-wife was even reported to have cheered for her estranged husband.
She said in an Expression interview following the event, "Fredrik provided good and clear content in what we stand for with a modern Labour party."
The news comes some 20 years after the Rielfeldts' wedding in 1992 and after nearly two decades of political success for both individuals. The couple has three children.