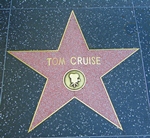 Hollywood actor Tom Cruise spent his 50th birthday on his private jet travelling from Iceland to the US.
Reports said that the star, known for his roles in Top Gun, Mission Impossible and Vanilla Sky, left in a hurry from Reykjavik Airport in a last-ditch attempt to save his ailing marriage with actress Katie Holmes.
Cruise has been in the North Atlantic nation filming his next major role in 'Oblivion'. Portions of the film are being shot in a range of locations around the country, as well as in the United States.
Tom flew home just days after news broke that he and his actress wife Katie Holmes are to end the five-year relationship. Reports state that custody battles for their only child Suri are to begin in the coming days after Holmes turned down Tom's bid to save the marriage when she filed for divorce just four days prior.
Experts say the Church of Scientology, of which Mr Cruise is an outspoken member, is likely to play a key role in the legal battle. Suri has thus far been raised as a Scientologist, which has reportedly not been favoured by her mother.