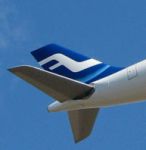 Evidence relating to suspicions that Finnair CEO Mika Vehviläinen received a bribe from pension firm Ilmarinen when selling his flat has been handed to Finland's state prosecutor. A decision on whether or not to press charges is expected in September.
The sale of Vehviläinen's flat to Ilmarinen caused a storm in 2011 when it emerged that the airline chief executive had continued to live there after the sale, with Finnair paying his rent under a contractual agreement. The two companies are also very intertwined, with Vehviläinen sitting on Ilmarinen's board at the time and Ilmarinen's CEO Harri Sailas chairing Finnair's board.
Police have questioned Vehviläinen, Sailas, Ilmarinen's deputy CEO Timo Ritakallio and former Finnair board chairman Christoffer Taxell since the investigation started last spring, but all deny contravening the principles of good business and allowing criminal activity to take place.
Heidi Hautala, the minister responsible for the government's 56 percent holding in Finnair, said Vehviläinen should not stay at the helm if charges are filed against him, even though the airline's board continues to back him. Ilmarinen is still very much involved with Finnair and is currently building the airline's new headquarters.