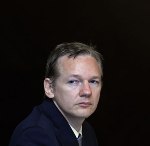 WikiLeaks founder Julian Assange will be extradited to Sweden to face charges of rape and sexual assault after losing his Supreme Court appeal in the UK.
Judges, who heard the case in February, dismissed the 40-year-old's appeal on Wednesday (May 30) by a majority of five to two.
Assange's lawyers said the European arrest warrant for the former computer hacker was "invalid and unenforceable". Despite admitting that the point of law was difficult to resolve, however, Supreme Court president Lord Phillips said the extradition was fair and lawful.
Assange is accused of sexually molesting and coercing one woman and raping another after giving a lecture in Stockholm in August 2010. He denies the charges and claims they are politically motivated and an attempt to punish him for releasing thousands of confidential documents that embarrassed several governments.