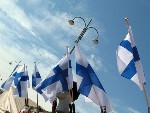 Finnish police say a teenager arrested on suspicion of killing two and wounding seven in a rooftop shooting spree at the weekend has shown remorse for his actions during questioning but has not revealed a motive.
The 18-year-old is accused of firing into a crowd of restaurant patrons standing in the street in Hyvinkää in the early hours of Saturday morning (May 26).
An 18-year-old woman was killed at the scene, while a 19-year-old man, reportedly known to the suspect, died the next day in hospital. Among the seven wounded, many of which will suffer permanent injuries, was a 23-year-old policewoman. It is believed that the officer, who was new to the job and still on probation, was deliberately targeted as she arrived at the scene.
Eero Hirvensalo, a senior physician at the Töölö Hospital in Helsinki, told Helsingin Sanomat that the policewoman is still in a critical condition after having been operated on three times. He added that she will need further surgery before a detailed prognosis can be given.
Police say the gunman fired 10 to 20 shots from a silenced small-calibre rifle into a crowd of people who were standing outside restaurants in the main street at around 2:00. He then fired a larger hunting rifle, which delivered the fatal bullets to the two victims.
The suspect fled after shooting the police officer but was apprehended in wasteland around six hours later. A third gun, not used in the shootings, was found nearby. The suspect does not have a permit for any of the weapons, but it is believed they were legally owed by a member of his household.
According to Mika Ihaksinen from the National Bureau of Investigation, the 18-year-old suspect indicated during questioning that he understands the consequences of his actions. Friends of the suspect, who were with him earlier in the night, apparently reported that he was annoyed after losing a playful wrestling match with his friend  but did not seem overly aggressive.
It is expected that the teenager will be formally charged later this week.