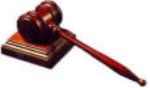 Swedish prosecutors have officially charged two men with the gruesome murder at an elderly couple at their farm last year. Both men, who were arrested in Poland a month after the attacks in Långared , southwest Sweden, have been charged with aggravated robbery and murder.
"It was an awful atrocity, an unbelievable beating. They [the accused] were totally cold-blooded," prosecutor Daniel Larson told the TT news agency.
Police believe the pair killed 69-year-old dairy farmer Torgny Antby and his 71-year-old wife Inger while stealing a safe that has never been recovered.  Both the accused deny the allegations, but Larson feels there is still enough evidence in the 2,500-page preliminary investigation for the case to proceed to court.
The alarm was raised when the couple failed to turn up for a choir performance on October 16, 2011, with officers later finding them both dead with their hands and feet tied together. Mr Antby was knocked to the ground and given a fatal blow to the head, while his wife was tied up and strangled to death with such force that the hyoid bone was broken.
"The evidence includes, among other things, the positioning of mobile phones, shoe prints found at the crime scene, and that the same unusual cables used to bind the victims were found with one of the men at his arrest in Poland," Larson said in a statement. DNA samples from a used piece of toilet paper will also be submitted as evidence.
It is thought that the couple were attacked in the late afternoon when they went to feed the cows at the usual time. "The suspects clearly knew the procedures on the farm, so we think they had planned this for some time," Larson said.
However, the prosecution is still confused about why the men didn't take money from Mr Antby's pocket and failed to find the key to the safe that was hung up in an obvious place with the rest of the keys for the farm. "They could have gotten at the safe in a thousand different ways without touching a hair on [the victims]," said Larson.
As both men strongly deny the claims, charges for accessory to murder have also been filed in case the duo is found to have only helped with the preparation of the killings and the getaway.
The trial is expected to start on June 4.