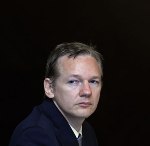 WikiLeaks founder Julian Assange has been forced to sign a book deal worth USD 1.7 million to pay for legal costs, according to reports. Assange, who is currently fighting extradition to Sweden after two women accused him of sexual misconduct, said he has made deals with two publishers for his autobiography because of ongoing financial hardships.
The WikiLeaks boss, who denies the charges and claims they are part of a smear campaign to discredit his work, is due to have his fate decided at an extradition hearing in Sweden on February 6 and 7. The whistleblower website has been highly criticised by the Pentagon and other authorities after it released thousands of confidential documents about the wars in Iraq and Afghanistan.
Speaking to the Sunday Times, Assange said, "I don't want to write this book, but I have to. I have already spent GBP 200,000 for legal costs and I need to defend myself and to keep WikiLeaks afloat."
Assange has reportedly struck a deal worth GBP 325,000 with British publisher Canongate and another worth USD 800,000 with American publisher Alfred A. According to Assange, the decisions by PayPal, MasterCard and Visa to halt donations to the site has cost it GDP 425,000, while the cost of his own legal defence has now reached GDP 500,000.