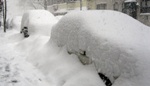 Last weekend, while snow continued to fall across Finland's capital city, Helsinki, snow clearance teams worked through the night attempting to clear the roads for public transport access. The latest blizzard dumped another 20cm of fresh snow in the area, bringing snow cover to over 65cm with more snow on the way.
Across the country, conditions are still appalling, even by Finnish winter standards. In Uusimaa province, over 100 accidents left roads littered with vehicles and a report from Kaisaniemi duty meteorologist Antti Jylha-Ollila indicates the region's record for depth of snow in December, 70cm, is about to be broken.
After hitting Helsinki, the freezing front was expected to move east towards Uusimaa, then veer to the north overnight. Finland's border regions are seeing the least snow at present, with Enontekio on the northwest tip at 45cm, northernmost Utsjoki with 34cm and Lappeenranta in the southeast getting only 16cm.