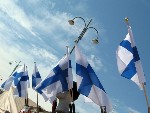 A report from the Arts Council of Finland shows that the level of corporate financial support between 1999 and 2008 fell from €46 million to just €17 million. The impact of the worldwide economic crisis over the last two years is not yet known, but indications are far from positive.
The initial sharp fall in donations occurred during the first few years of the decade, concurrent with the mini-slump in the country's economy. Author of the report, Pekka Oeasch claimed, "support for the arts has not recovered since then."
In 2008, only one in every five Finnish companies supported the arts, with the main players being companies in the insurance, finance and manufacturing sectors. Of the 373 companies who gave financial support, more than 50 percent favoured sports, with those funding art and cultural events mostly supporting music, film, pictorial art and theatre.
General Manager of the Lahti Symphony Orchestra Tuomas Kinberg stated, "We have noticed a decline in corporate support over the last two years. When times are difficult, support for the arts is the first thing to go."
Kinberg believes the lack of corporate support hinges on Finland not having the 'art patronage mindset' common in the U.S. and Germany. Another problem is the lack of fundraising expertise in arts-related organisations, combined with a lack of time. A key element, he says, is the minimal TV exposure of the arts compared with that of sports, and suggests a change in tax laws to allow corporate donations to be tax-deductible. This would help arts funding across the country.