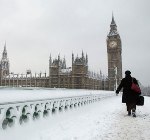 IceNews employee Ben Davis reflects upon the current weather conditions being felt across Northern Europe. 
As a British citizen living in Reykjavik, I was surprised when the daily British newspaper, The Guardian reported that current weather conditions in the UK were making the country "colder than Reykjavik". My country of birth, colder than the supposed 'Land of Fire – and yes that's right – Ice'?
According to The Guardian, large amounts of snow had fallen over many parts of the UK, and forecasters were predicting freezing conditions and blizzards to continue throughout the rest of the week.
Around the time The Guardian published the article, temperatures in the UK were averaging a teeth chattering -10°C in comparison to a very mild +5°C here in Reykjavik, which was quite a contrast to say the very least.
I remember looking out of the office window at the time and observing some insignificant snow fall on the mountain peaks surrounding Reykjavik. However, there were no signs of any snow in the downtown area, not even a cloud in the sky.
With some further investigation it appeared that it wasn't – or should I say 'isn't' since these weather conditions still continue to wreak  havoc in my green and pleasant land? – just the UK that was experiencing such a harsh winter climate – most of Northern European appeared to be getting a thrashing from Mother Nature too.
Due to Iceland's location, just below the cusp of the arctic circle, and of course its name, ICEland, a common misconception is that weather conditions here are pretty severe. This is confirmed with the amount of clothing that tourists wear when walking down Reykjavik's main shopping street in the middle of the summer. Needless to say, Iceland's capital city does in fact receive reletivly mild weather all year around.
This is confirmed by The Icelandic Met Office (Vedurstofa Islands) with its predictions for the rest of the week: +7°C has been predicted for Thursday and Friday and an acceptable +3.5°C for the weekend. So while scientists predict that these weather conditions being experienced in the UK and across Northern Europe might not be a one off, are Iceland's winters in fact getting warmer?