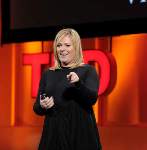 Halla Tomasdottir, co-founder of financial services provider Audur Capital, recently gave a talk at a TEDWomen conference in Washington, DC. Her talk reflected upon the 5 specific "feminine" values that her company applies to financial risk, and how these women's values are key to solving Iceland's economic crisis.
Audur Capital's values include independence, risk awareness, straight talk, emotional capital, and profit with principles. The company's approach appears to be working and Tomasdottir believes that these values could help solve the economic crisis in Iceland with the correct balance.
In Spring 2007, Tomasdottir left her position as managing director of the Iceland's Chamber of Commerce to setup Audur Capital with her business partner, Kristin Petursdottir. They both wanted to bring greater diversity, social responsibility, and "feminine values" to the financial services industry.
Audur Capital is named after an early female Viking settler called Audur the Wise, whose moniker signifies wealth, happiness, and clear space. The investment firm's innovative offerings, such as the national green-tech investment fund with female singer Bjork, could help save banking in Iceland.
TEDWomen was a two-day conference that took place earlier this month, asking the question: How are women and girls reshaping the future? TED is a small nonprofit devoted to "Ideas Worth Spreading". TED was established in 1984 and since has held numerous projects, conferences and award ceremonies.
To view Halla Tomasdottir's TED conference talk, click here.