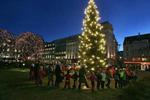 Every year since 1952, the City of Oslo, Norway has presented Reykjavik City with a huge Christmas tree for the festive period. The tree is always placed in Austurvollur Square, in the heart of downtown Reykjavik, and is ceremoniously lit every year on 29th November with families gathering to sing Christmas carols and join-in the festivities.
The Christmas tree, which will be sent to Reykjavik this year, has already been chosen and will be removed from the Hauktjern region just outside of Oslo tomorrow. The 40-year-old spruce tree has already been displayed on the City of Oslo website and reaches 12 meters high.
Sigridur Duna Kristmundsdottir, the ambassador of Iceland in Norway, will attend the cutting down ceremony tomorrow along with other invited guests and the general public. A children's choir will be singing at the event and there will be coffee and cakes.
Oslo has given Reykjavik a Christmas tree every year for the past 60 years. Oslo also gives other cities a tree every year, including London and Rotterdam.