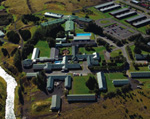 Today is the 12th annual National Stress Awareness Day (NSAD). The purpose is to help develop a greater understanding of stress and the strategies to help cope with its pressures. Iceland's NLFI Rehabilitation and Health Clinic is doing its own part by offering stress relief treatment and rehabilitation therapy for those looking to improve their mental health.
The NLFI Rehabilitation and Health Clinic offers various stress relief and rehabilitation programs to provide guests with treatments tailored to individual needs. Available treatments include: neck massages; full body massages; herbal baths; mud baths and acupuncture methods. The clinic also offers private consultations for: overweight and dietary problems; heart problems; arthritis; stress management; giving up smoking; back injuries and illness recovery.
The NLFI Clinic is the oldest sanatorium in Iceland and also one of the two most important rehabilitation clinics in Iceland. Every year approximately 2,000 patients and other guests enjoy the diverse rehabilitation programs. The Clinic has earned a solid reputation, both in Iceland and internationally, since its foundation in 1955 for personal and effective care of patients.
For more information about treatments at the NLFI Rehabilitation and Health Clinic visit, http://www.hnlfi.is/EN/