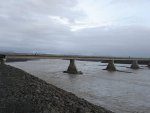 Water levels in the Gigjukvisl river in south Iceland, close to Grimsvotn volcano, have risen by about 40 cm since last night. River flow measured 1659 cubic metres just before 18:00 yesterday evening and this morning's measurements show that the river flow is currently more than 2000 cubic metres.
Egill Axelsson, a Hydrographic specialist working at the Icelandic Met Office (Vedurstofa Islands) commented, "If this continues then we estimate that the flood will reach its peak this afternoon."
According to mbl.is, Gunnar Gudmundsson, a geophysicist at the Icelandic Met Office said, "There was an increase in turbulence in Grimsvotn at 03:30 this morning but this has remained stable since. The turbulence has not grown in other vicinities nearby, so now it is a question of what does this mean?"
Gudmundsson added, "I am not excluding the fact that this could develop into a small volcanic eruption. However, if this does turn out to be the case, then it will be something similar to the eruption in 2004, which was not major."
The Grimsvotn volcano eruption in November 2004 lasted for one week but no glacier burst proceeded. Volcanic ash from the volcano fell as far away as mainland Europe, however no disruptions to air traffic were caused.