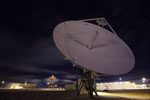 Asbru Enterprise Park in Iceland continues to be at the forefront of entrepreneurship, education and business development through the launch of its new website; by using innovative design and usability to inform its customers further about its services.
The Enterprise Park prides itself in offering a varied selection of entrepreneurship, education and business facilities, including academic programs, aviation training, fitness development, medical tourism projects and international data centres.
The Keilir, Atlantic Center of Excellence, also located within the Enterprise Park, consists of four different schools: the Health Academy, School of Energy and Technology and the Aviation Academy. Each school has the same objective in preparing students for further studies at university, whilst providing excellent specialist training.
In 2006, the North Atlantic Treaty Organisation (NATO) abandoned its military base in Keflavik, leaving over 900 local people unemployed. Instead of focusing on the negative aspects of the departure, the local population looked at the opportunities and consequently established the Asbru Enterprise Park.
To view the new Asbru Enterprise Park website visit, http://asbru.is/English/