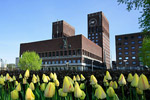 A conference focusing on discussing the ethical trading and ethical values within international business, is to be a main focal point during the upcoming Oslo Innovation Week, held between 18 – 22 October at the Oslo City Hall, Norway.
The Oslo Summit peace conference, organised by the Business for Peace Foundation, will focus on the relationship between peace and trade through various presentations, as well as a panel debate. The event will conclude with the formal presentation of the Oslo Business for Peace Award to the seven honourees selected by the Oslo Summit award committee.
Sitting on the award committee for The Oslo Business for Peace Award include Professor Muhammad Yunus, Winner of The Nobel Peace Prize 2006, Professor Wangari Muta Maathai, Winner of The Nobel Peace Prize 2004, and Professor A. Michael Spence, Winner of The Sveriges Riksbank Prize in Economic Studies in Memory of Alfred Nobel 2001.
The focus of the Oslo Innovation Week is to build a bridge between entrepreneurs, investors and environments of competence to promote creativity and growth. Global and Norwegian investors, entrepreneurs, scientists and business leaders will be in attendance during the five-day's events to deal with the innovation and politics of trade and business, capital and founding growth-projects, innovation that stems from research, and youngsters and entrepreneurship.
The Business for Peace Foundation aims to increase the awareness of the businessperson as an individual to the strength of the ethical business case, and thus inspire business people as individuals to foster peace and stability.
More information about the Oslo Summit peace conference, Oslo Business for Peace Award and the promotion of ethical trading can be found by visiting the Business for Peace Foundation's website at, http://www.businessforpeace.no/