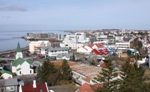 The Port of Hafnarfjordur is built in a lava field located in the south-west of Iceland, just a 10 minute drive from the capital city, Reykjavik. Hafnarfjordur is Iceland's third-largest town, with around 25,000 residents and just like the vast majority of towns in Iceland, has been totally unaffected by the recent volcanic eruption at Eyjafjallajokull.
The port is capable of accommodating three berth luxury cruise ships and this year the port will receive the magnificent Le Boreal. The custom-built cruise ship launched this May, allows a 264-passenger capacity and was built using "cleanship" standards. This includes an advanced positioning system that keeps it in the same offshore location without having to drop anchor, preventing damage to the seabeds surrounding Iceland.
"Passengers aboard the Le Boreal will be in for a treat as before docking in Hafnarfjordur, the cruise ship will pass close by the Iceland volcano, giving passengers an excellent view from a safe distance," commented Mar Sveinbjornsson, CEO of the Port of Hafnarfjordur.
In addition to this, once passengers have arrived in Hafnarfjordur there are numerous activities, events and tours in and around the surrounding area. The most popular tour is the Golden Circle, which includes a visit to Thingvellir, Geysir and Gullfoss. The geothermal area of Krysuvik is located just 20 minutes away, as well as the world renowned Blue Lagoon Spa.
Also, every year between the 11th and 20th June, hordes of Norsemen invade the town for the annual Viking Festival. The festival involves Viking enthusiasts from all around the world participating in the various activities and events for all the family to enjoy. The annual 'Bjartir Dagar' festivities also takes place between the 2nd and 6th June with numerous concerts and events taking place in downtown Hafnarfjordur.
For more information about cruise ship vacations and summer events in the Port of Hafnarfjordur visit www.portofhafnarfjordur.is