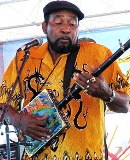 Iceland's annual Blues Festival (Blúshátið í Reykjavík) kicks off its three night concert series this evening, hosting the biggest headlining artists Deitra Farr, Billy Branch and blues legend Super Chikan. The world-renowned acts will all be performing at the Hilton Nordica Hotel in Reykjavik in front of hundreds of blues enthusiasts expected to attend the event.
The Reykjavik Blues Festival began last Saturday with a series of concerts taking place in downtown Reykjavik. However, the three night concert series will begin this evening with Deitra Farr, the female blues singer and songwriter from Chicago. Farr will be performing with the Nordic All Stars Blues Band, a crew of renowned bluesmen from Iceland and Norway.
Deitra Farr is considered one of Chicago's top vocalists, who has over the years been nominated for Traditional Female Blues artist of the year by the W.C. Handy Awards, Female Blues Artist of the year by the Living Blues Critics Awards, the British Blues Connection Awards, and the Les Trophees France Blues awards. This Chicago native has been the featured vocalist with the Jimmy Mayes band Mill Street Depot, and then with blues pianist Erwin Helfer's trio. From 1993 to 1996, Deitra was the lead singer with Mississippi Heat.
Billy Branch from the Chicago Blues Allstars and former harmonica for Willie Dixon will be performing tomorrow evening. Billy Branch is one of the most popular and prestigious blues musicians in the world today. He has won multiple awards and played with many of the biggest stars in the blues music scene. Icelandic singer Ragnheidur Grondal will also be performing alongside Branch.
Super Chikan, whose real name is James Johnson from Mississippi, holds already four nominations for the 2010 Blues Music Awards, as the BB King Entertainer of the Year, for Song of the Year for "Fred's Dollar Store", for Traditional Blues Album, his Chikadelic, and finally as Traditional Blues Male Artist of the Year. Super Chikan will be performing with The Fighting Cocks who consists of three great blues musicians, LaLa Craigdelong, Heather Tackett and Jamiesa Turner.
More information about the Reykjavik Blues Festival can be found at www.blues.is/english.htm