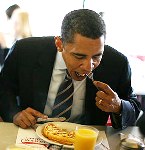 As the Olympic committee gathers in Copenhagen, Denmark for Friday's conclusion as to where the summer Olympics 2016 will be held, several important political figures from around the world will gather and take part in the work done, especially those trying to get the biggest sports event in the world to their country.
One of the people traveling to Denmark is President Barack Obama and joining him, the first lady Michelle Obama – both of whom have been formally invited to join Icelandic Entrepreneur and restaurant owner Fridrik Weisshappel for a dinner at his restaurant Laundromat while visiting Denmark.
"This is a once in a life time opportunity," says Fridrik who bought a full page ad in Denmark's most prominent news paper Politiken. Fridrik's staff are now making sure that if Barack Obama does not read Politiken he can see the invitation as he drives through Copenhagen by hanging posters all around the city.
"It's a good Icelandic custom to invite people you like for a dinner and I am a big admirer of the Obamas," says Fridrik.
As some IceNews readers might remember, there have been US presidents who have eaten out among the commoners while in Iceland: Bill Clinton had a hot dog at Iceland's most famous hot dog stand and President Reagan did something similar while visiting the country back in the 80's.
For more information on Restaurant Laundromat go to http://www.thelaundromatcafe.com and to see the menu Barack and Michelle Obama are likely to choose their food from go to the menu page http://www.thelaundromatcafe.com/menu.pdf of Restaurant Laundromat.
Visir.is reported