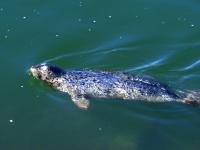 A recent proposal approved by a European Parliament subcommittee would prohibit all EU nations from importing any seal products. This would be an economic blow to Canada, which holds the world's largest yearly commercial seal hunt, as well as Greenland, which has a heritage of seal hunting.
Members of the parliament's Internal Market and Consumer Protection Committee voted 25 to 7 to endorse the bill tightening a ban on seal products within the EU's 27-nation bloc. Nordic nations, however, are openly against the move claiming it violates global trade rules.
The EU proposal does grant a limited exemption for indigenous Inuit communities from both Canada and Greenland, allowing them to trade seal pelts, meat and oil for "cultural, educational, or ceremonial purposes" only. EU Lawmakers are standing by their belief that seal hunting is an "inherently inhumane" activity, but to become a law the bill still needs the approval of the entire EU assembly and EU governments. The soonest this could happen is April, according to the International Herald Tribune.
Canada and Greenland have both warned that they will challenge any new ban before the World Trade Organisation. They have the backing of Nordic nations Finland, Denmark and Sweden. The issue of seal hunting remains one of the most sensitive among animal rights activists.