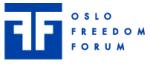 The human rights conference Oslo Freedom Forum, which is taking place between 18-20 May in Oslo, Norway, is set to bring a number of world leaders together in order to honour heroic survivors of political oppression and persecution. The conference, hosted by Human Rights Foundation, will showcase leading authors with first-hand experiences in the fight for human rights.
Conference participants include Elena Bonner and Vladimir Bukovsky, both of who braved years of Soviet brutality; Harry Wu, who endured 19 years in Chairman Mao's Laogai; Buddhist monk Palden Gyatso, who spent 33 years in a Tibetan prison; Auschwitz survivor Elie Wiesel, who became a Nobel Laureate; Kurdish human rights activist Leyla Zana, who continues to fight for freedom of expression in Turkey; Kang Chol-Hwan, who was sent to prison by Kim II Sung at the age of nine; Armando Valladares, who suffered 22 years in Fidel Castro's political prisons; and Ramon Jose Velasquez, who was imprisoned by Venezuelan dictator Marcos Perez Jimenez.
Thor Halvorssen, President of HRF, commented, "This is an exceptional opportunity to learn first-hand from those who have inspired the human rights movement and to engage them in a meaningful and enlightening discussion about what motivated them to stand up to some of history's gravest injustices."
In addition to the attending authors, noted participants include Darfurian doctor Mohammed Ahmed Abdallah, former Romanian President Emil Constantinescu, Reporters Without Borders Secretary General Jean-François Julliard, former Lithuanian Head of State Vytautas Landsbergis, UN Deputy High Commissioner for Refugees Craig Johnstone, and Venezuelan democracy activist Leopoldo Lopez, amongst others.
The Oslo Freedom Forum conference will explore the harrowing experiences of the attending authors with focus on civil and political rights.