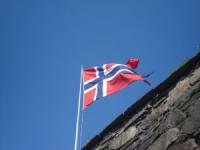 A group of thieves broke into a church in southern Norway and stole a Renaissance painting estimated to be worth USD 2.8 million. The painting's absence was noticed by the fire brigade responding to an alarm at the church around 1am on Sunday. The painting, which is about 450 years old, is known as 'La de smaa barn komme til meg' and was painted by the German Renaissance artist Lucas Cranach the Elder (1472-1553).
The head of the police investigation, Petter Aronsen told the Norwegian news agency NTB that the not-so-God-fearing thieves used a ladder to climb up and smash a window at the Larvik church. After entering the building they were able to easily make off with the unsecured painting. An international police bulletin has been dispersed across the globe in an effort to locate the valuable treasure.
The painting, which measures about one metre by one metre, was painted on wood and depicts Jesus surrounded by a group of children. The painting has been hanging in the Larvik church since it was built in 1677. Aronsen admits they have no leads yet, but are hoping for the best. "We have no suspects for the time being, and are very interested in any tips from people who may have seen or heard something," Aronsen said.