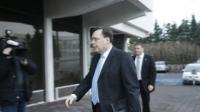 The Icelandic Prime Minister Geir H. Haarde, in a press conference held at noon today, announced he will be stepping down as the leader of the Independence Party due to his grave health condition. He has been diagnosed with a malignant cancer of the oesophagus.
He also announced that he is, in cooperation with the Social Democrats who are in coalition with the Independence party, recommending national elections to take place on the 9th May this year.
As IceNews has reported, heavy and growing protests have been taking place in Reykjavik and all across the country and pressure has been mounting on the government to take action towards re-election.
The diagnosis of the Prime Minister comes as a shock to the nation, especially in light of the fact that the Foreign Minister, Ingibjorg Solrun Gisladottir, the leader of the Social Democrats, has been undergoing treatment of a benign brain tumor since last autumn. Haarde expects to undergo surgery around the end of the month and will remain party leader until the Independence Party's rescheduled conference on 26-29 March.