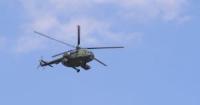 According to official sources speaking to Helsingin Sanomat, Finland's Ministry for Foreign Affairs and Ministry of Defence is preparing to significantly increase its troop numbers in Afghanistan in 2009. If things go as planned, Finland will essentially double its participation in the peacekeeping operation led by NATO's ISAF force.
The purpose for the increase in peacekeepers is to help protect next summer's landmark Afghan presidential election. Although the additional Finnish troops would only be temporary, they would stay near the northern Afghanistan city of Mazar-i-Sharif for at least four months. This is where the current Finnish soldiers are stationed.
At the moment there are 80 Finnish peacekeepers helping the ISAF, while another 20 Finns work in operational support roles. At least 150 Finnish soldiers will be on the ground for next summer's election. President Tarja Halonen, along with Finland's foreign and security policy team, decided in November to send more troops to Afghanistan next year.
Finland's role will continue to be civil crisis management, one of the more peaceful roles played by ISAF. More than 7,000 poling stations will have to be guarded next September during the Afghan presidential elections. A smooth transition of power is essential to preserving the fragile stability that ISAF seeks to nurture in Afghanistan.