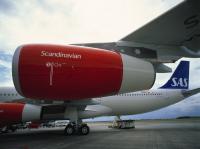 The financially squeezed Nordic carrier, Scandinavian Airlines, has announced it will be cutting 5,000 of its normally scheduled departures from Copenhagen Airport during the winter season due to greatly decreased customer demand. Twenty-five destinations will be affected by the cutback, with flights to Frankfurt, Munich, Hannover, Cologne, Stuttgart, Brussels, Prague and Manchester most greatly reduced.
Susanne Larsen, president of SAS Denmark, said "the world is in crisis and that's meant a drop in both business and holiday travellers. As a result, we have to adjust to capacity so we're not flying around with half empty planes."
Even though Sterling Airlines' demise opened up a number of new routes to and from Scandinavia, this event only encouraged more carriers to enter the Nordic market. Now there's even tougher competition than before the bankruptcy of Sterling. SAS's last quarterly report showed that the airline pulled 16 of its planes from service, with a further six now parked in hangars at Copenhagen Airport.
On the up side, SAS has indicated that it will aggressively pursue the 2009 summer travel market by focusing more on Spanish holiday destinations like Barcelona, Malaga and Alicante. Negotiations with Germany's Lufthansa over a possible merger have also apparently been resumed, offering another lifeline for Scandinavia's flagship carrier.