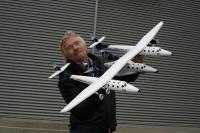 This is not science fiction. Swedish company Spaceport Sweden is reportedly being courted by Sir Richard Branson's Virgin Galactic as potential major operational partner in Virgin's space tourism plans. The Swedish company is working in cooperation with the town of Kiruna to become Europe's first base for personal suborbital spaceflight.
Virgin Galactic is on course to become the world's first private company to offer commercial space flights for ordinary people. Richard Branson recently gave an interview on Swedish TV4 and had a lot to say about the potential of Kiruna as a possible base for European spaceflights.
There are many other applications besides simply soaring into the lower suborbital atmosphere of earth for the incredible views and weightlessness. Branson says with his planes, passengers can fly from Scandinavia to Thailand in 30 minutes for a reasonable price. Naturally, Virgin Galactic will first focus on sending space tourists into space. But his long-term vision is fast global air travel.
Sweden has many tourist angles that would work well with space travel. Experiencing the northern lights from space would be especially magical. As to when this will all begin taking place, Branson alluded to a start date of 2012. The Mothership is about to begin test flights in New Mexico, and after many months of fine-tuning the process, the space flights should be ready.