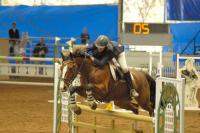 Although an official hearing still has to be held, the Olympic doping charges levelled against Norwegian equestrian athlete Tony Andre Hansen and his horse Camiro have been confirmed. If Hansen cannot provide evidence refuting the doping allegations, the International Equestrian Federation (IEF) will take back his bronze medal, according to Aftenposten.
Hansen says he will fight the charges all the way to the end since he and his team still can't understand how the banned substance capsaicin got onto hishorse's legs. "I know that we are innocent, and I will do what I can to shed light on this case," Hansen said in an official statement. "We haven't administered any kind of doping substance to Camiro."
Hansen and his equestrian team went from flying high to being labelled cheaters when Camiro, the horse he won the bronze medal with, later tested positive for capsaicin, a pain-reducing ointment that is banned. The secondary 'B-test' confirmed the presence of capsaicin, resulting in Hansen's and Camiro's suspension from the Olympics.
Hansen insists he had never even heard of capsaicin until the doping test results were released in August 21. Camiro tested negative for all banned substances when it arrived in Hong Kong on 5 August, so it remains a mystery how the ointment got onto the horse. Hansen did, however, concede that as the rider he is ultimately responsible for anything related to the horses he rides.