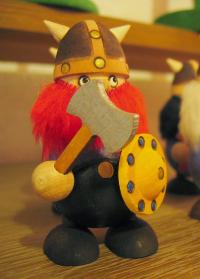 In an ambitious journey, two Irish sailors have completed an adventurous six-week voyage from Dublin to the Danish port of Roskilde aboard a reproduction of an actual Viking ship dating from 1042. The Sea Stallion from Glendalough sailed 1,400 nautical miles, arriving without incident to a cheering crowd of more than 10,000 people at Roskilde's harbour, The Irish Times reports.
According to the Irish Times, the ship enjoyed nearly ideal sailing conditions for their ambitious archaeological project that was deemed a major success. Archaeologist-sailors Triona Nicholl and Sinead Quirke captained the Viking ship, and were joined by three other scientific crewmembers for about half of the voyage to study the workings of the ship. Their arrival was the highlight of a weekend event hosted by the Roskilde Viking Ship Museum, who transformed Roskilde's harbour into a festive Viking marketplace.
The welcoming party included several dignitaries such as Cllr Eibhlín Byrne, the Lord Mayor of Dublin, Joe Hayes, the Irish Ambassador to Denmark, and Dr Pat Wallace, the director of the National Museum of Ireland.
The Sea Stallion did endure a few desperate moments during its voyage, however. Nicholl recalled the challenging Wicklow-Land's End passage, when the notorious Bristol Channel swell made more than half the crew seasick. The Sea Stallion is a replica of a Viking ship named Skuldelev 2, which is one of five Viking vessels discovered near Roskilde in 1957. Carbon-dating tests date the age of the Skuldelev 2 to the year 1042.