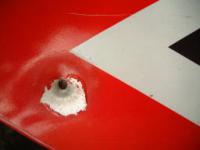 A reception centre for asylum seekers outside Oslo was shot at several times, hitting a 16 year-old from Somalia in the stomach while he was sleeping, reports AftenPosten.
Rounds of ammunition were fired at two of the centre's buildings from a 7.62mm rifle, common with hunters and military personnel.
The neighbourhood around the Hvalstad reception centre for asylum seekers has been cordoned off while crime scene investigators scour the area. The centre, which is located in a leafy suburb of southwest Oslo, houses youths aged 15 to 18. Investigators are determining whether the shooting was a random act or a hate crime.
Police units and specialised teams from Asker, Bærum and Oslo have been called in to work the case. Witnesses recall hearing several shots late Thursday night, and ballistics experts are busy calculating the origin of the shots.
The injured youth was listed in critical condition and taken to Ullevål University Hospital, where doctors worked to save his life. No arrests have been made, and the other residents of the centre are being counseled by aid workers.
"Our main concern is to make sure that we are doing as much as possible for the people living at the centre," stated Åsmund Eide of the Norwegian Directorate of Immigration (UDI).