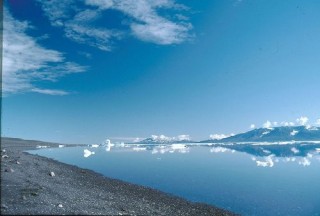 Two artists have carried out one of the most bizarre climate change protests of all time by hauling around 100 tonnes of Greenland's inland ice to Copenhagen before proceeding to melt it.
The idea of the ice melting in the Danish capital was to draw people's attention to the 5th Assessment Report on the Climate, produced by the UN's IPCC, which concluded that global warming posed the threat of "irreversible ecological damage" within our lifetimes.
Minik Rosing and Olafur Eliasson named their ice melting campaign "IceWatch".
Rosing described ice as a "peculiar and wonderful substance", noting that progress of civilisations was linked to the "coming and going of ice ages" and that people and ice's future destiny would also be tied together. He explained that our actions were now leading to a point where we were close to ending a period of stable climate which had allowed civilisations to "arise and flourish".
The artist went on to say that humans had destabilised Earth's climate as a result of advancements in science and technology but, now we know how these changes have been caused, we have the ability to stop them from worsening.