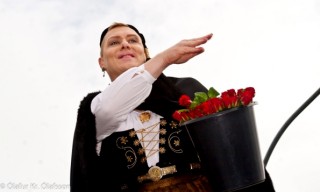 Last Wednesday, the comedian mayor of Iceland's capital announced that he does not intend to seek reelection in the upcoming mayoral elections, and the party that brought him to power in 2010 is to merge with sister political force Bright Future.
Jón Gnarr won the 2010 municipal elections at the head of the newly formed Best Party, defeating all the well-established political parties. Gnarr's victory was seen as a backlash against traditional politics in the wake of Iceland's 2008 financial crisis.
"I am not a politician, I'm a comedian", Jón Gnarr said radio station RÚV. "I think my time has come. If I were to do it again, I would have to become a politician and I'm not one", he added.
Recent polls indicate that Jón Gnarr has retained his support from the 2010 elections, which saw the Best Party win 35 percent of the vote.
Gnarr's party is to merge with Bright Future in the June 2014 elections, a party which has six members in parliament. The comedian-mayor on the other hand said he will go and look for happiness, which he believes he cannot find in politics.