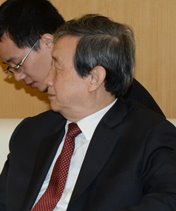 China wants to develop greater cooperation with Iceland in a number of areas, according to Vice Premier Ma Kai. During a meeting with Iceland President Ólafur Ragnar Grímsson on Sunday, he said his country was ready to expand pragmatic cooperations in the fields of trade, geothermal energy, economy, social development, science and technology and Arctic research.
Ma Kai said the two countries had developed a friendship over the years based on trust and support, and are reliable partners for cooperation that can be beneficial on an equal bases. He added that advancing cooperation, such as the bilateral free trade agreement signed earlier in 2013, would drive the countries' bilateral relations to the next level.
the Icelandic president said he feels bilateral relations would continue to improve, due to the true friendship the countries have developed, particularly because of the numerous financial, economic and trade cooperation China and Iceland had during the financial crisis.
He pointed out that the relationship between the two countries is a model of cooperation given their different sizes and cultural and historical backgrounds.
The Chinese premier, who was on an official visit to Iceland, also had talks with Icelandic Prime Minister Sigmundur Davíð Gunnlaugsson on Saturday, who said that China is an important partner, and that with the Northern Sea Route increasingly used, he expects bilateral trade to expand and the two countries to work together to create what has been dubbed  the Northern Silk Road.