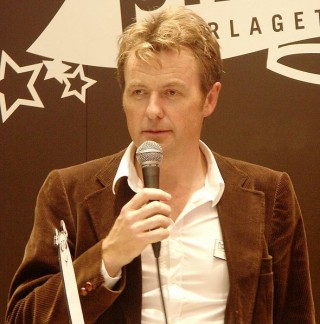 Swedish and Norwegian Friday night talk show Skavlan is set to begin broadcasting in Denmark; however, the host is going to interview guests in Danish.
The show's Norwegian presenter, 47-year-old Fredrik Skavlan, has enjoyed great success in Sweden since it launched on Sweden's SVT network in 2009, and has been awarded the Kristallen prize for best male presenter.
Whether he is interviewing guests from his native Norway or from Sweden, he speaks Norwegian due to the fact the languages are so similar. When an international celebrity is on the show, Skavlan and the other Swedish or Norwegian guests switch to English.
Among the most renowned guests to appear on the show are Rihanna, Jay-Z, Shakira, Vince Vaughn, Eddie Izzard and Robbie Williams.
Despite boasting two million viewers across Norway and Sweden, an attempt to launch Skavlan on BBC Entertainment Worldwide was scrapped after failing to attract enough viewers.
Following the announcement that the show was to start broadcasting in Denmark, Skavlan said it is already a linguistic cocktail, and that he is looking forward to seeing how Danish people will receive a talk show presented in Norwegian.
However, as Swedes find Danish more challenging to pick up, Skavlan will not adapt it for the Danish market or have guests interviewed in Danish.