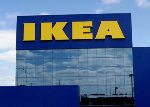 Swedish retail giant Ikea has stopped selling meatballs at European retail stores after horsemeat was reportedly found in its food products. Officials from the firm said in press conference in Stockholm on Monday 25 February, "We have today been informed that our meatballs could contain traces of horsemeat, based on a test done in the Czech Republic. Considering the possible concern among our customers, we are now stopping all sales and serving of our meatballs across [Sweden]," the Local.se reports.
A spokesperson has also said that the product had also been removed from the Ikea menu in several neighbouring countries.
Spokeswoman Ylva Magnusson told the AFP, "We take this very seriously and have withdrawn one-kilo bags of frozen meatballs from Slovakia, the Czech Republic, Hungary, France, Britain, Portugal, Italy, the Netherlands, Belgium, Spain, Cyprus, Greece and Ireland."
Danish and Finnish Ikea stores have also been added to the list, according to news reports issued on Monday.
The furniture chain has said that its own laboratory results have yet to uncover any horsemeat in the meatballs, although officials say that the company will continue its investigation.
According to officials from the Swedish National Food Agency, the meatballs are primary produced and distributed to European stores by Familjen Dafgård, a food supplier located in central Sweden.
Karin Cerenius said on behalf of the National Food Agency, "They've been told by Czech authorities that three tests have been done and that in one case horsemeat was found. But they don't know how much horsemeat was involved," the TT news agency reports.