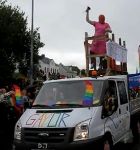 The mayor of the Icelandic capital was seen at the weekend in an outlandish protest against Russia's jailing of rockers Pussy Riot.
Mayor Jon Gnarr showed his support for the rock stars on Saturday by riding on top of a van in a pink dress and balaclava at the city's annual gay-pride parade. Gnarr, a comedian and actor-turned-politician, was dancing to Clear the Cobblestones, a Pussy Riot song clearly critical of Moscow.
The performance comes amid worldwide outcry after the Moscow-based all-female punk group was jailed by Russian authorities in March for playing an unannounced concert in the Cathedral of Christ the Saviour in central Moscow. During the show, the band reportedly criticised Russian President Vladimir Putin. They have since been charged with 'hooliganism' and face up to seven years behind bars.
Gnarr's protest came alongside a statement issued by Icelandic singer Bjork on the same day in which the superstar invited the three jailed members of Pussy Riot to join her onstage. Bjork said on her website that she understands where the Pussy Riot protests are coming from, both as a mother and a musician.
The Pussy Riot band members are to be sentenced today.