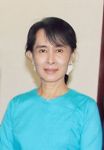 Burmese democracy champion Aung San Suu Kyi finally delivered her Nobel Lecture in Oslo this week, 21 years after winning the Nobel Peace Prize while under house arrest in the military dictatorship. Although admitting that she was never barred from coming to Oslo to collect the award in 2001, she said she feared she would not be let back into the country to continue her struggle for human rights and democracy.
On Saturday (June 16), Suu Kyi told the packed City Hall audience, which included the Norwegian royal family, that although Burman, also known as Myanmar, has improved recently, there is still "a long way to go". She added that winning the award drew attention to her cause and gave her hope while under house arrest away from her family. "It opened up a door in my heart," she said.
After the 66-year-old's speech, Nobel Committee chairman Thorbjørn Jagland gave a nod to the "Other prize laureates who have been unable to come to Oslo to accept their medals [and] have also earned a place in the annuals of history: Carl von Ossietzky for his battle against Hitler's Germany, Andrei Sakharov and Lech Walesa for their fight against Soviet Communism, and Liu Xiaobo for his struggle to promote human rights in China."
The decision to give the prize to Liu Xiaobo in 2010 has frozen relations between Norway and China, with the Asian country seemingly furious that the honour has been given to a prisoner.
"Oppressive rulers who abuse [human] rights with brutal power must know that there will always be courageous individuals who will oppose them," Jagland said. Talking about the time it took for Suu Kyi to claim her prize, he added, "The 21-year interim has proved the committee right about this."
"But it is you, Aung San Suu Kyi, who translated the committee's words into reality," Jagland added. "Through your awe-inspiring tenacity, sacrifice and firmness of principle, your voice became increasingly clear the more the military tried to isolate you."