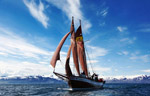 North Sailing is offering a special 10 percent discount for its unique Schooner sailing tour in Iceland, 'Edge of the Arctic', if booked before 13th June. As part of this trip, adventure seekers will get to set sail on a Schooner sailing boat to the northeast part of Iceland and spend two days in breathtaking scenery.
'Edge of the Arctic', is an epic two-day adventure tour departing from Húsavík in north Iceland and continues to Skjálfandaflói bay. These locations are home to numerous species of whale, such as the humpback and the blue whale. After a spot of whale watching, the tour continues on to the small island of Flatey for a guided tour of the local wildlife, geology, and flora – the tour also docks at another small island; Grímsey.
Grímsey is Iceland's northernmost inhabited territory and is situated directly on the Arctic Circle. Despite being treeless, the island's vegetation cover is rich, consisting of marshland, grass, and moss, and the island is home to many birds, especially auks. If weather permits, the tour also takes participants on a zodiac trip to explore the bird cliffs and sea caves on the eastern part of Grímsey.
Included as part of the tour are all the on board meals and drinks, accommodation on board, a professional sailing outfit, admission to the Húsavík Whale Museum, certification for crossing the Arctic Circle, and the zodiac trip at Grímsey.
The schooners with North Sailing, Haukur and Hildur, are descendants of the first decked sailing vessels in north Iceland in the 19th century. The knowledge and know-how of handling and maintaining gaff-rigged ships had been all but lost in Iceland. The schooners of North Sailing are now the only active vessels of their kind along Icelandic shores.
For further information regarding the 'Edge of the Arctic' sailing tour, and to find out more about the discount offer, visit http://www.northsailing.is/tours/edge-of-the-arctic/.