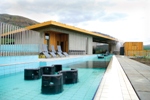 Iceland's leading airline, Icelandair, will be offering free entrance to the popular Fontana Spa, a geothermal pool located on the popular Golden Circle tour route, as part of its summer self drive tours in Iceland.
Summer is undoubtedly the best time to experience self drive tours in Iceland, as the country turns into 'the land of the midnight sun'. Driving in Iceland is a pleasurable experience, with well paved open roads surrounded by beautiful mountainous landscapes. Also, with numerous quaint hotels, guest houses, and B&Bs, there's always somewhere unique to end each evening.
Icelandair's 'Summer Self Drive and Fontana Nature Baths' package deal gives travellers a cost effective way to explore Iceland. The deal includes a three day car rental from Hertz with unlimited car mileage, return flights from London Heathrow, Glasgow, or Manchester, and free entrance to the Fontana Spa.
Fontana Spa is built on the site of a natural hot spring, which is located on the Golden Circle tour route. Here, travellers can relax and take a break from driving in the warm waters of the popular spa.
Fontana boasts various interconnected outdoor mineral baths that vary in depth, size and temperature. Its incredible hot tub VISKA is built at a slightly higher level than the other baths, providing a panoramic view of the spa's beautiful surroundings.
In addition to the Spa, there are other great drives from Reykjavik, such as the Jökulsárlón glacial lagoon on the south coast or circumnavigating the mysterious Snæfellsnes peninsula.
To find out more about Icelandair's 'Summer Self Drive and Fontana Nature Baths' package deal, as well as other tours in Iceland, visit www.icelandair.co.uk.