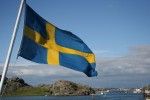 A Swedish man has admitted stabbing his neighbour to death because he couldn't stand the incessant noise coming from his flat. The 39-year-old from Karlskrona, southern Sweden, said the constant creaky sounds coming from the victim's apartment were his only reason for repeatedly stabbing his 19-year-old neighbour.
According to a police statement, the 39-year-old armed himself with a large knife and rang his neighbour's door bell after finding himself disturbed by the noise in the early hours on Tuesday morning (January 18). He then allegedly stabbed the 19-year-old continually, leaving him to bleed to death in the building's stairwell.
The alleged killer then reportedly made his way to work at the Blekinge Institute of Technology and barricaded himself into a room before emailing a local newspaper and confessing. The police were however alerted by one of the man's colleagues before anyone at the newspaper had read the email.
The 39-year-old was arrested without incident and ordered to undergo a psychiatric evaluation at a remand hearing last week. His attorney, Christer Holmqvist, told Blekinge Lans Tidning newspaper, "I don't want to pass judgment on my client's mental status. Obviously, one doesn't feel well when something like this happens, just like everyone else involved."
Prosecutors are hoping to bring formal charges against the man by February 20.