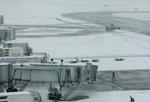 Finland's airport chief and foreign minister have promised to share the secrets of keeping runways open in the snow after harsh weather hampered travel across Europe over the Christmas holidays.
Samuli Haapasalo, the chief executive of the Finavia Corporation which operates the country's airports, said he will invite his European counterparts to Finland for a crash course snow control. According to him, the national Helsingin-Vanta airport only closed for a few hours during the harsh holiday weather.
"We wish to share our snow-how. Handling harsh winter conditions is our most basic business here at Helsingin-Vantaa," Haapsalo said in a report by the Wall Street Journal. "Next winter I think the situation will be better on every airport all over Europe as they will become more prepared," he added.
Finland's foreign affairs minister Alexander Stubb also said that he felt sorry for passengers who found themselves stranded in Europe due to the snow, adding that Finland is happy to share its coping mechanism with the world. "Finland is a country that functions in +30 and in -30 Celsius degrees and all degrees in between," he said.
The offer to educate other airports on how to cope in bad weather ties in with a report commissioned by Mr Stubb called "Mission for Finland". The paper, which explores how Finland can raise its profile internationally, encourages the country to act as a global problem solver.
"If you look at the branding report you see that Finland is a country where things work. Our handicap is that we're not talking about it. That will have to change," said Stubb.