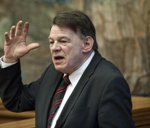 Right-wing Danish MP Jesper Langballe has pleaded guilty to defamation after writing in a newspaper article about rape and honour killings in Muslim families. Langballe of the Danish People's Party made his statements in a debate article in support of Lars Hedgegaard, the Freedom of the Press Association's chairman.
In the article Langballe wrote: "Of course Lars Hedegaard shouldn't have said that there are Muslim fathers who rape their daughters when the truth instead seems to be that they make do with killing daughters (so-called honour killings) – and moreover turn a blind eye to rapes by uncles."
Langballe was handed down a fine of DKK 5,000 (USD 888) by the court in Randers after the case was issued by a public prosecutor from Jultland. In a statement, he said he had not been untruthful but that he is sorry that some felt derided by his comments. He added that he regrets the tone but not the content of his statements.