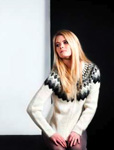 Since the settlement (in the 9th century), Icelanders have found themselves engaged in a relentless struggle to come to terms with the rugged environment in which they live. Sheep were the key to the nation's survival, providing generations of Icelanders not only with food but also with wool as protection from the biting cold of the harsh northern climate. Now, the traditional wool jumpers are still perfect for battling the cold or for cosy nights in and can be bought online at Nordic Store.
The Icelandic wool sweater, known as Lopapeysa, is characterised by its yoke design, which is a decorated pattern, usually resembling a diamond ring running around the neck of the sweater. The yarn used is a blend of wool containing both fleece and wind hairs, and has great insulation properties.
In recent years, the Icelandic wool sweaters have become more popular than ever before, with the online availability playing an important part of the increased popularity.
Nordic Store offers a wide range of various types of Icelandic wool sweaters for men, women and children. Styles include pullovers, vests, zip-ups and cardigans in selection of colours and designs. Wool from Iceland, wool blankets, wool hats, wool gloves and wool mittens are also available.
To find out more about the Icelandic wool sweaters on offer visit, http://www.nordicstore.net/