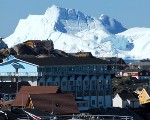 Cairn Energy has confirmed that it has found gas off the western coast of Greenland. The Edinburgh-based oil and gas exploration company made the discovery in the Baffin Bay Basin, 175km from the island of Disko.
In the first discovery of its kind in the Arctic region, Cairn also announced to the London Stock Exchange that the find has increased the likelihood of unearthing oil as well. "Although we are at the very start of exploration in the basin, the discovery of gas in thin sands is indicative of an active hydrocarbon system," the company said in a statement. "The well has not yet reached target depth."
Test drilling at the previously untouched Baffin Bay Basin began about a month-and-a-half ago. The firm currently has two offshore rigs operating in the area. Governments and environmental groups, such as WWF and Greenpeace, have however strongly condemned the project in the wake of the Gulf of Mexico oil spill.
Oil company Maersk Oil and gas firm DONG, both from Denmark, have also announced in interviews with Berlingske Tidende that they are interested in exploring drilling opportunities off Greenland since learning of Cairn's breakthrough. Greenland is currently a semi-autonomous state of Denmark, but according to the Copenhagen Post, it is likely to seek greater independence if large amounts of natural resources are discovered in the country.