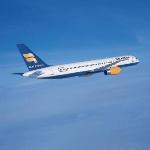 The Icelandic airline company, Icelandair, has been commended for its recent efficiency and outstanding service in response to the disruptions cause by the volcanic eruption in Iceland. As some minor disruptions continue, Icelandair maintains its high standards and makes every effort to adapt its flight schedules and fly as many flights as possible.
During the beginning of the volcanic eruption, whilst other European airports closed, Iceland's International Airport in Keflavik remained open. Keflavik International Airport is the central hub for Icelandair so from there staff conducted a strategic operation in order to get as many people home to their final destination as possible.
When Trondheim airport in the north of Norway opened, Icelandair sent numerous ground staff and flew several flights between there and Iceland. When it appeared that Heathrow would reopen and allow planes to land, Icelandair scheduled numerous flights ready for departure, however, when the airport consequently did not open, the flights went to Edinburgh instead.
Shortly after the volcano threat died down in Europe, the wind direction that was pushing the ash over Northern Europe shifted and consequently Keflavik airport closed for three consecutive days. During this time, Icelandair opened up a makeshift hub in Glasgow. Flights from the US went to Glasgow, where passengers could then connect to other parts of Europe. Icelandair even transported passengers to Akureyri airport in the north of Iceland by coach and then flew to Glasgow allowing them to get connecting flights to their destinations.
To keep customers and the general public as up-to-date as possible, Icelandair made great use of its Twitter page and also constantly updated its website. As well as this, Icelandair Group created a website dedicated to providing passengers with up-to-date information regarding ash fall coverage and flight schedules. It also provided all vital information regarding safety, flights and volcanic activity.
For more information regarding Icelandair flights and up-to-date flight schedules visit www.icelandairgroup.com/volcano/flight-info-icelandair