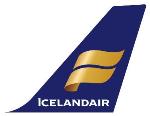 Icelandair is adding a third flight to Glasgow and is scheduled for departure from Keflavik Airport at 17:00. At 14:00 two Icelandair airplanes left for Glasgow with over 400 passengers.
Icelandair was this morning granted flight authoritization for Glasgow. A large number of travellers are stuck in Iceland due to the volcanic eruption and Icelandair wanted to accommodate those people at the earliest chance by leaving Iceland and offering the Glasgow route. The Glasgow flight is suitable for people with a booked flight to Manchester/Glasgow or London that has been cancelled. These travellers can then upon arrival in Glasgow travel within the country to their destination or depart for other destinations in Europe on their own. Departure from Glasgow to Iceland will be at 22:00 local time.
Icelandair encourages travellers to keep watching the news and updates on the situation.
For more information visit www.icelandair.com