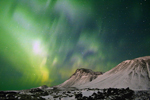 Throughout the winter in Iceland, especially towards the end of March, the Northern Lights hit their peak in levels of activity. These dancing lights become a common spectacle in the 'land of fire and ice'; a country voted within the Best Value Travel Destinations for 2010 by leading travel guide Lonely Planet.
To celebrate this coveted achievement, Icelandair have launched an affordable Northern Lights City Break for UK travellers. The Northern Lights tour, operated by Reykjavik Excursions, beings the following evening after the day of arrival. Travellers are conveniently picked up from their hotel and driven to the country's glorious countryside, far away from the city lights of Reykjavik. Generally lasting for around three hours, every tour is exclusive. Each group is taken to a different destination based on the likely hood of viewing the phenomenon.
The Northern Lights City Break allows travellers the change to relish in exploring the world's northernmost capital, Reykjavik. Whether relaxing in the hot pots at one of the City's numerous swimming pools, or just checking-out the landmark sights, this trip has it all. Also, due to the plummet of the Icelandic Krona, now is the best time to have a cheap and enjoyable holiday in Iceland.
Amongst the package, flights from Manchester, Glasgow or London Heathrow and three nights are included, as well as the Northern Lights Tour. The offer must be booked by 31st January and is obtainable through until 31st March 2010.
To book online or for more information visit www.icelandair.co.uk.
(Advertisement)