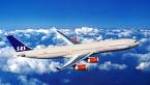 Hundreds of layoffs and huge pay cuts are in store for employees of Scandinavian Airlines (SAS) after the company posted losses of more than 1.3 billion kroner from the first six months of 2009. The Nordic airline now feels it has no other option but to make drastic cuts in its workforce.
According to the Copenhagen Post, SAS has plans to lay off 1,500 staff and trim the salaries of its pilots and cabin crew by 10 to 15 per cent. The airline hopes this move will keep SAS in the air until the economy rebounds.
During the first half of the year, passenger numbers on SAS declined by 16.4 per cent, or 6.8 million customers. This falls in line with most other carriers' depressing profit reports. But SAS also has to deal with a major fine from the European Commission over charges of collusion within the carrier's cargo transport division.
SAS already paid US$52 million to US airline regulators last year for the same infraction. Now it is being forced to pay twice for the same crime, this time to the European authorities.
The management of SAS didn't mince its words when making its latest financial report, claiming it was do or die time for the airline. "In summary, SAS must compete on the same basis as its competitors and completely close the cost gap, which ultimately is a matter of survival," the half-year report stated.
To see more, check out the CPHPost.